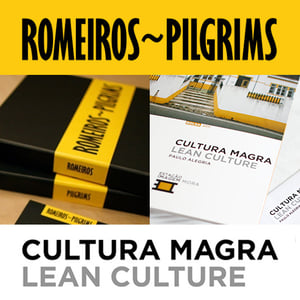 €

65.00 - On Sale
For a limited time only, both books Romeiros~Pilgrims Ltd Edition (200ex Signed with Print) and Lean Culture 1st Edition (62ex Signed with Print), are available for a special price of 50€.
"Romeiros~Pilgrims" is a contemporary look on the people making Alto Minho in Portugal, a permanent place for party. A romance made of photos, written with an ironic and colourful tone, showing us the age-old traditions in contact with the future, a strong debate between the profane and the sacred. A work by Paulo Alegria in 200 photographies, with texts by Raul Pereira.
"Lean Culture" was a photographic work produced to the portuguese Estação Imagem Grant in 2011, with a strong local focus at Mora's municipality in Alentejo, where Paulo Alegria documented the cultural, sporting, recreational and humanitarian associations. The title comes from the idea that these groups are almost all leanly financed, surviving uniquely on the spirit of generosity and mutual support among its members.