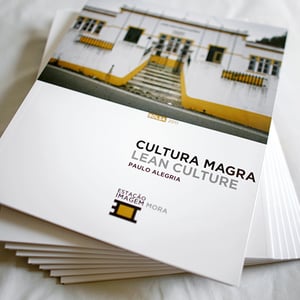 €

30.00
"Lean Culture" was a photographic work produced to the portuguese Estação Imagem Grant in 2011, with a strong local focus at Mora's municipality in Alentejo, where Paulo Alegria documented the cultural, sporting, recreational and humanitarian associations. The title comes from the idea that these groups are almost all leanly financed, surviving uniquely on the spirit of generosity and mutual support among its members.
Photography and text: Paulo Alegria
Editorial management: Luís Vasconcelos
Text revision: Raul Pereira
Translation: Isilda Graça
Design: Henrique Cayatte & Susana Cruz
Press: Norprint
Publisher: Estação Imagem
Circulation: 62 copies
Availability: 19 copies
(unique edition 05/2012)
Dimensions: 280x235x6mm (book), 280x200mm/250x165mm (photo paper/image)
ISBN 9789899733817
Details: Portuguese-English bilingual book, signed and numbered by the author with 64 pages printed in 170 gr. couchet paper with overall semimatt finishing. Paperback cover with 300 gr. couchet paper with plasticized matt finishing. Unique exclusive print of one of the 62 photos published in the book. Each book goes with its own photography processed by Fuji Frontier 350 on Fujicolor Professional Paper, without repetitions.
sneak peek inside the book (PT/EN)
"Lean Culture" on press:
Público P2 Magazine May 2012 (PT)
Attitude Magazine May 2012 (PT/EN)